The Crossroads Market Story
Crossroads Market had been in the Green Lake community since 2006.  It was built by Dr. Tom Willett, along with the BP gas station and convenience store, after the local grocery store in downtown Green Lake closed.  In late 2015, the McConnell family discussed buying the grocery store from Dr. Willett to continue his wish to provide a grocery store to the local residents and visitors to Green Lake.  Pat McConnell, who grew up in Green Lake, was passionate about keeping this vital resource open for the community.  He understood it was not only an important piece of Green Lake's retail market but served as a substantial employer and economic influencer.  The McConnell family assumed ownership of Crossroads Market in early 2016 as part of the FLASH Family of Companies.  Albeit, key family and business leaders jokingly pushed back on Pat that they "don't know anything about groceries!", but accepted the challenge to keep the store alive for the Green Lake community.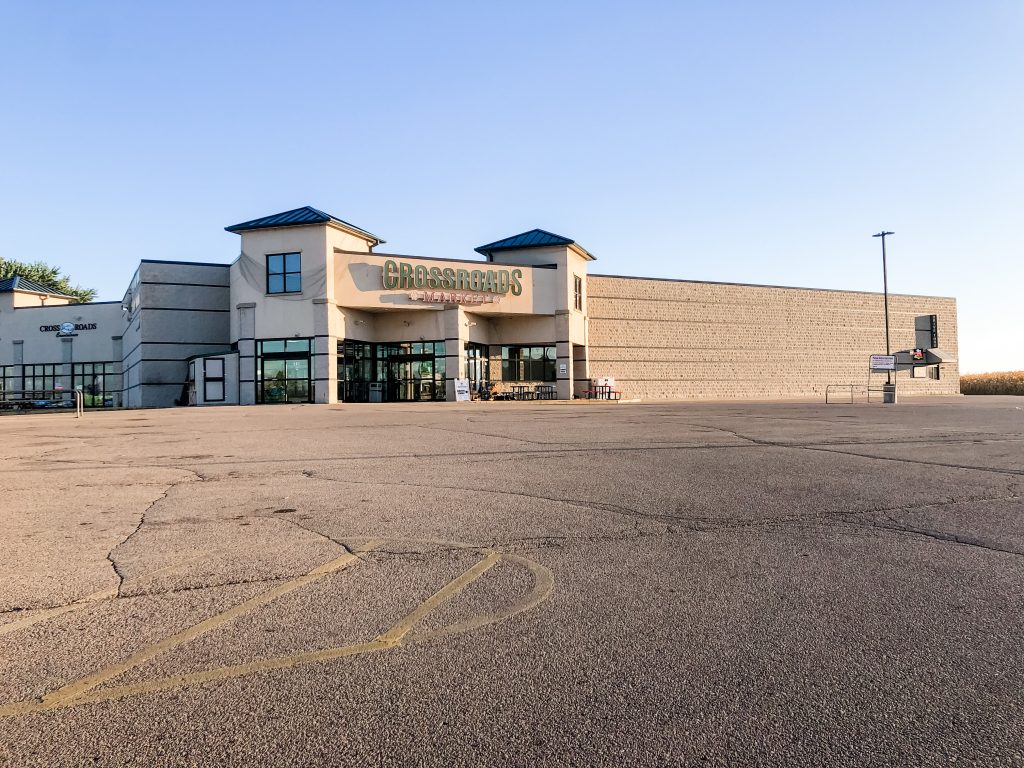 Following much of the FLASH Family of Companies' philosophy, they immediately surrounded themselves with the right people and leaned on their network.  After a few months in operation, the family launched a two-million-dollar expansion project, nearly doubling the store's footprint to 27,000 sq. ft, adding a full-service deli, scratch bakery, smokehouse, catering, and more center store aisles.  Leadership knew if the store was ever going to be financially successful, it needed to be more than just a 'gallon of milk and carton of eggs' stop for shoppers.  The expansion doubled their daily guest count.  JT Foods in Berlin had closed, and the family was thankful that Jerry Trochinski joined their operation, bringing with him his catering and smokehouse expertise and secrets.
It's been a slow process for the family as they still strive to make the store a profit center for the FLASH Family of Companies.  While the pandemic has not been good to most businesses in their portfolio, Crossroads Market has flourished as more guests found them and discovered all the store has to offer.  Like all grocers and businesses, their biggest challenge is working through the labor shortage and rising prices on groceries and supplies, and supply chain issues.  However, despite not quite turning a profit yet, the family finds comfort in knowing they are keeping locals employed.  They also enjoy supporting other local businesses through the supply of bakery and other Crossroads' Own products.  Admittingly they most enjoy the outlet Crossroads Market has become to support the non-profits of the community through their Rooster Roundup and other community events.  "We fully understand some decisions we make are not exactly profitable, but that's the benefit of ownership," said Mandi Hinrichs, President of the FLASH Family of Companies.  "We can keep the store open until 10 pm for the mom who needs children's Tylenol for a sick kiddo.  Our ultimate goal is to be here for the community when they need us.  We strive for consistency, reliability, and quality."
Crossroads employs 60 total employees from the greater Green Lake area.  The FLASH Family of Companies corporate office provides the accounting, human resources, finance, safety, and maintenance functions.  Aside from Crossroads Market, the FLASH Family of Companies, in business since 1984, includes FLASH (trucking, maintenance, and construction), Transload Solutions, and Texas Frac.  The family employs roughly 300 people in Midwest, New York, West Virginia, and Texas.  For more information on Crossroads Market, visit crossroadsgl.com or find them on social media.  For more information on the FLASH Family of Companies, visit theflashfamily.com.